Buku "Petualang Pintar Petualang Bodoh"
"It's okay to dream .. so dream on and make it real..!!" Singkatnya pesan itulah yang ingin disampaikan aktor utama buku "Petualang Pintar Petualang Bodoh" ini. Siapa aktor utama yang dimaksud? Dia bernama Wulung Damardoto yang akrab dipanggil UNGKI. Usaha seorang individu yang butuh tujuh tahun untuk meyakinkan berbagai banyak pihak untuk mewujudkan mimpinya keliling Indonesia dengan sepeda motor. Dari penolakan berbagai atpm motor hingga sinisme bahkan dari teman-teman yang diajaknya berbincang. Bersama rekan fotografer nya, Ditto, bro Ungki sukses menuntaskan program "INDONESIA EXPLORIDE" beberapa waktu yang lalu. Bagaimana dengan buku ini?
Jangan lantas kecewa. Memang buku ini tidak menceritakan perjalanan keliling tim IE atau menceritakan hal-hal seru sepanjang perjalanan. Buku ini lebih mengangkat sisi optimisme seorang Ungki dan usahanya untuk membagi semangat kepada mereka yang punya cita-cita dan impian yang sama. 135 halaman lux kombinasi dokumentasi perjalanan dan ajakan untuk menyemangati diri hadir cukup apik meski tulisan yang dibuat oleh Nining Irianingsih dan Heryus Saputro tidak padat.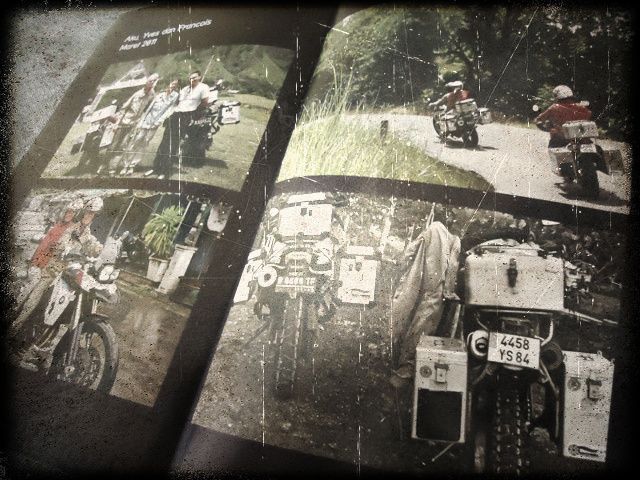 Inspiratif dan tak kenal lelah meski anda membawa mimpi untuk mengendarai sebuah BMW seri GS sekalipun. Seperti dituturkan ibunda Ungki, "Jangan takut untuk bermimpi, setinggi apapun kamu bermimpi. Asal mimpi itu terukur oleh akal sehat oleh akal sehat, dan kamu setia dan gigih mewujudkannya, Insya Allah terwujud mimpimu…". Sama hal nya ketika dulu saya bermimpi memiliki Kawasaki D Tracker 250. Saat rilis perdana motor tersebut membuat saya jatuh cinta meski faktanya harga yang di banderol cukup membuat saya menelan ludah. Mimpi, berusaha dan wujudkan, Alhamdulillah saat Tuhan masih sayang pada umat-Nya maka Dia pun akan mewujudkan dengan cara-Nya sendiri. Mid Mei lalu saya berhasil menunggangi mimpi dan bersama riding ke 7 propinsi bersama ekspedisi 2Ride7 sepanjang Jawa, Bali dan Lombok. So, teruslah berusaha mewujudkan mimpi.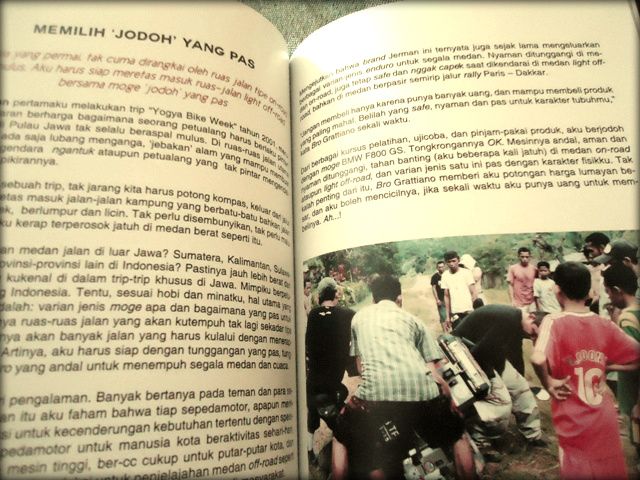 Satu hal yang mungkin bisa menjadi pekerjaan rumah untuk pencetakan berikutnya. Buku "Petualang Pintar Petualang Bodoh" tidak dikemas dalam sistem jilid yang apik. Lem antar halaman mudah lepas yang mungkin memaksa saya untuk men jilid nya ulang. Di luar hal minor tersebut maka buku ini bisa jadi opsi menarik untuk dimiliki, apalagi bagi mereka yang punya impian jalan-jalan dengan sepeda motor dengan balutan hal-hal yang menguntungkan alias "profitable". Selamat berburu atau silakan pesan agar saya bisa pesankan. Maklum buku ini kemarin saya dapatkan langsung di event bro Ungki saat me rilis layanan UNITED Riders Insurance di bilangan Cipete. Soal asuransi ini tunggu di kabar-kabar selanjutnya ya. Salam…